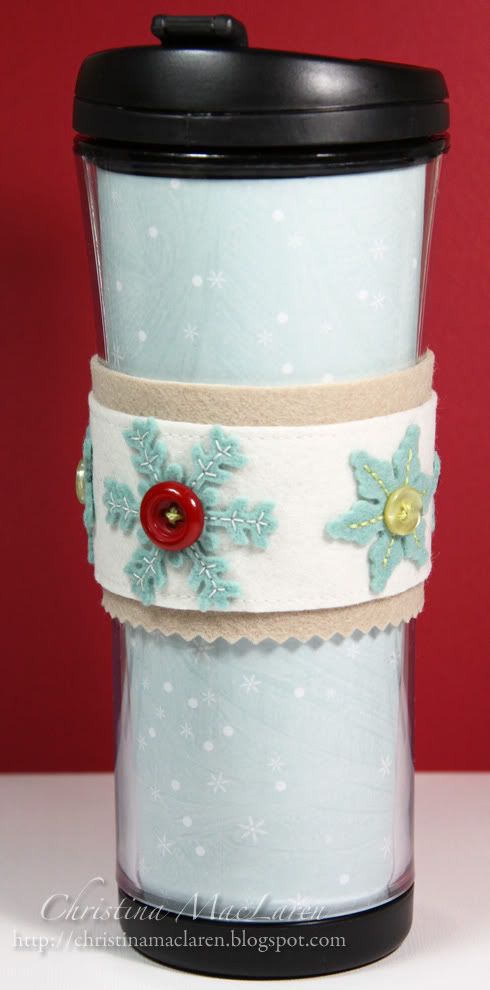 It's
ColourQ
Tuesday! So glad you stopped by for this week's challenge. This week we have a fun and festive color palette, as always, but we are also challenging you to make something other than a card. Fun, right?
This is the time of year when I'm always scouring the web looking for creative ideas for holiday gift-giving, so with that on my brain I decided to makeover a travel mug that's been sitting around on our counter. Someone gave my hubby one of those decorate-it-yourself mugs from Starbucks, and I can't see him breaking out the craft supplies anytime soon, so I took it upon myself to give this sad little travel mug a new life.
My colors aren't the exact ones from the palette, but I used what I had in my stash that was closest. I started with some pretty patterned paper by SEI from the Wintersong collection. I've had this in my stash forever! I simply removed the template that came with the mug and traced it onto the back of my patterned paper, cut it out, and slid it into place. What's great is that I can change the paper out with the seasons!
To decorate the outside, I chose to add a felt wrap, just like all of those cute coffee cozies I see on Etsy. Using one of those corrugated Starbucks wraps as a template, I cut a piece of PTI's Fine Linen felt, pinked the bottom edge, and sewed it together at the back.
To decorate the wrap, I cut snowflakes from Ocean Tides felt using Spellbinders Create-a-Flake dies and stitched them with basic embroidery stitches to a piece of cream felt. A few button centers add the finishing touch.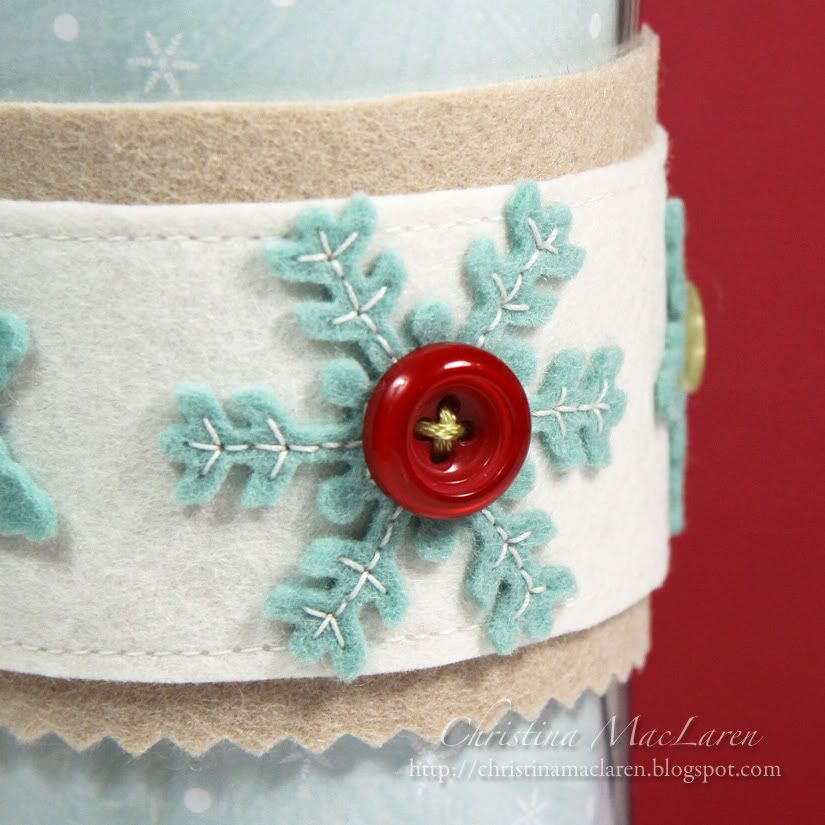 Patterned paper: SEI (Wintersong)
Felt: Papertrey Ink
Tools: Spellbinders (Create-a-Flake One & Two), pinking shears
Accessories: Papertrey Ink (buttons), thread
I hope you'll join us this week at the ColourQ to make a non-card project using these colors! And be sure to stop by and see what the rest of the DT gals have cooked up.
Thanks for your visit today!