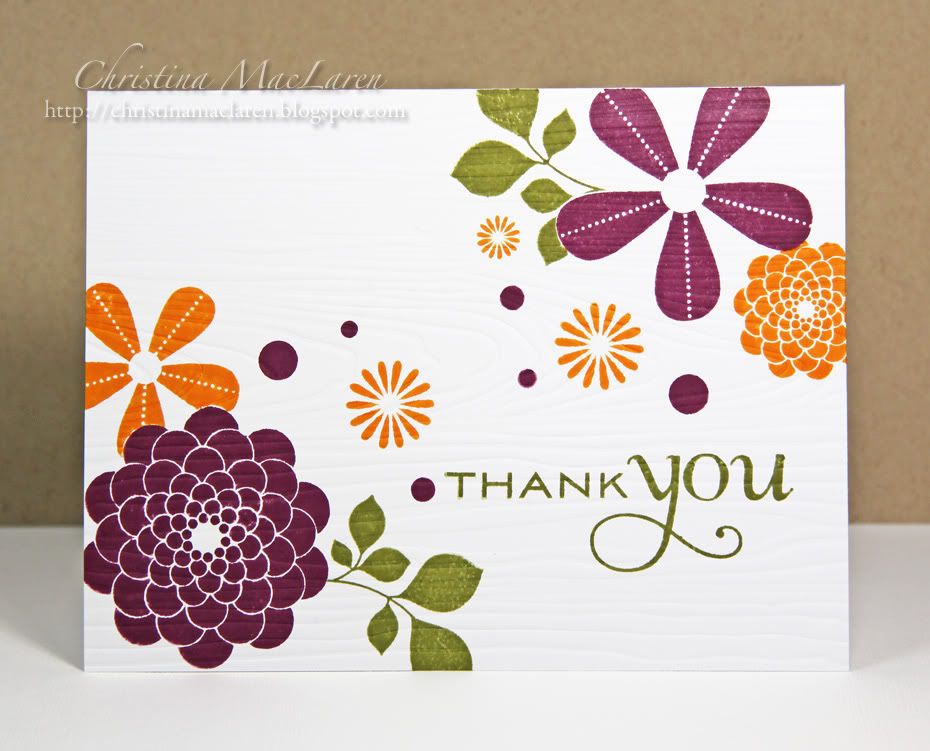 We had some wild weather in MA last night, but thankfully it missed us. My heart goes out to those in Springfield and the surrounding communities that were impacted by the storms.
Hey there! So glad you could stop by today! I have a CASEd card to share that I made recently. A few weeks ago I started using Pinterest, and I love how easy it is to browse photos that I have saved to use as inspiration for cards. One of my recent pins is
THIS card
by my friend Nance. I knew immediately that I wanted to do a version of it, and today's card is the result.
I used the same layout and colors as Nance (Rich Razzleberry, Pumpkin Pie, and Old Olive) and used flowers from PTI's Beautiful Blooms II and leaves from Turning a New Leaf. The sentiment is from Think Big Favorites #2. Nance's version has stamped woodgrain, but I opted for my woodgrain impression plate (no arm twisting needed!).
I love that this is a simple, one-layer card that is easy to mail, but it packs a fun and colorful punch.
Thanks for dropping by, friends! Have a good one!