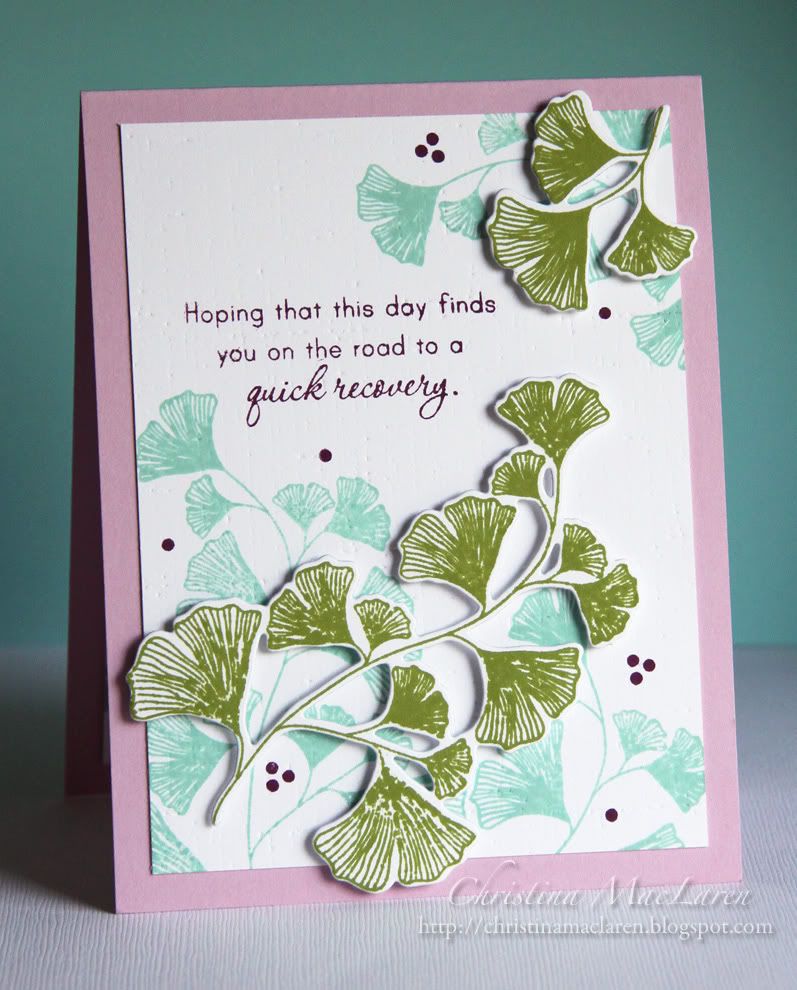 Good morning! After the long weekend here in the U.S., I nearly forgot that today is Tuesday and time for another fabulous
ColourQ challenge
!
Are you loving the new SU In Colors as much as I am? Luckily for us, Arielle has included two of them in this week's color combo, which is inspired by a delicious fabric tote.
I haven't had much time to play with my newest stamps from Papertrey Ink, so I couldn't wait to ink up the gingko leaves from Harvest Berries. *swoon* I thought they would be perfect for a get well card for a co-worker who is having surgery this week.
Usually when making a card, the sentiment is one of the last things I add, and often I don't even know what type of sentiment I'll use until the card is nearly finished. For this card, I stamped the sentiment first for two reasons.
First, I knew it would be a get well card, so I chose a phrase from PTI's Healing Touch Sentiments that I thought was most appropriate.
Second, I wanted the sentiment in the "sweet spot", that intersection of imaginary lines that divides a card into thirds. This is most appealing to the eye and draws your attention to the message immediately.
Once the sentiment was stamped in Rich Razzleberry, it was fairly quick and easy to frame it with gingko leaves stamped in Pool Party. Next I added some texture with PTI's Linen & Canvas impression plate.
For a bit of dimension and contrast, I die cut two gingko branches, stamped them in Lucky Limeade, and popped them up with foam adhesive.
To balance out the Razzleberry sentiment, I added a scattering of stamped purple berries, then adhered the panel to a lavender card base.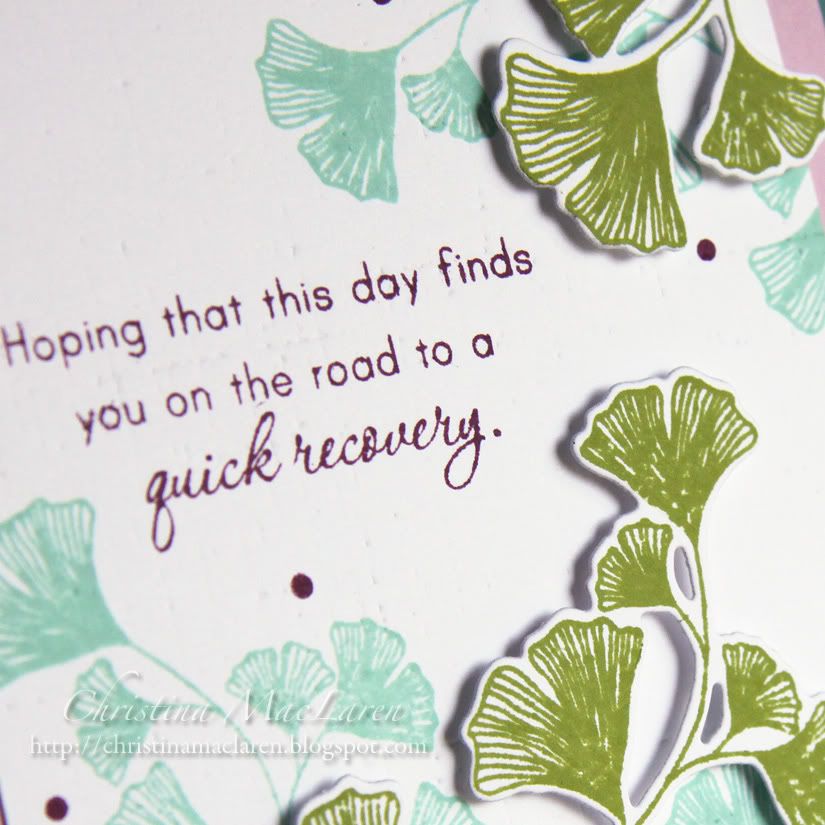 Cardstock: Papertrey Ink (Lavender Moon, white)
Stamps: Papertrey Ink (Harvest Berries, Healing Touch Sentiments)
Ink: Stampin' Up! (Lucky Limeade, Pool Party, Rich Razzleberry)
Tools: Papertrey Ink (branch dies, Linen & Canvas impression plate)
I love the composition of this card, but if I made it again I think I would stamp off once before stamping the aqua leaves so they would be a little softer and fade more into the background, because as-is it seems a little busy. But I adore these colors together and hope you'll find some time to take up the challenge using them this week!
Thanks for paying me a visit today! I hope to catch up on comments and visits to your blogs very soon!