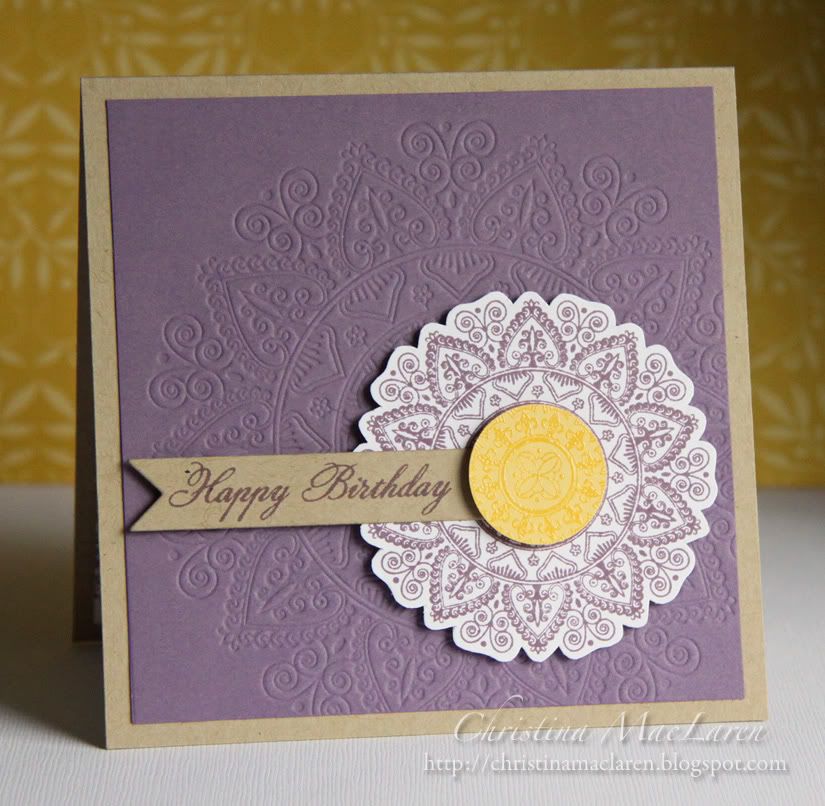 Well hello, strangers! Can you believe I'm actually back with a card today?
As you might remember, I went back to work last week after spending the last 6 years at home with my kids. It's a part-time job, but I was still exhausted every afternoon last week while adjusting to the new routine. I am the new lab technician for the Health Sciences department at a local college, and I am loving the job so far! I have a lot of flexibility and independence, which works perfectly for me and allows my hubby and I to coordinate our schedules so that one of us can still be home with the kids when they are not in school. I feel so fortunate to be back at work doing something I enjoy after such a long hiatus. Thanks to everyone for leaving your words of encouragement, and for your patience during my absence over the last week!
This is the first time I've played with PTI's Mehndi Medallions stamps and impression plate. Oh my loveliness! I just adore the highly detailed impression this plate leaves! *swoon*
I also took inspiration from Maile Belle's interpretation of the sketch as seen in the challenge post. I layered a hand-cut Plum medallion over the impressed cardstock, then gave it a Saffron center by stamping the medallion onto Saffron cardstock with Versamark, heat embossing with clear powder, and punching out the center with a 1 inch circle punch.
The sentiment banner was cut with PTI's Double Ended Banner die and stamped with a sentiment from Birthday Basics.
I thought about adding some scattered bling or glitter pen details, but I really like the simple elegance of the medallions as is.
Cardstock: Stampin' Up! (Perfect Plum, So Saffron), Papertrey Ink (Kraft, white)
Stamps: Papertrey Ink (Mehndi Medallions, Birthday Basics)
Ink: Stampin' Up! (Perfect Plum), Versamark
Tools: Papertrey Ink (Mehndi Medallion impression plate, Double Ended Banner die), Martha Stewart Crafts (circle punch)
Accessories: Stampendous (clear embossing powder)
In other news, we are in the midst of Tropical Storm Irene right now (recently downgraded from a hurricane), but the rain and wind have been manageable here. My thoughts are with those along the East Coast where the impact of the storm has been much greater, and where flooding continues to be a threat. Stay safe, friends!
See you back here soon! Thanks for stopping by!